Sludge Dewatering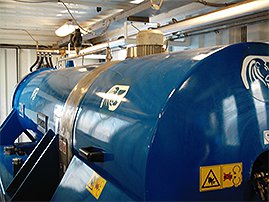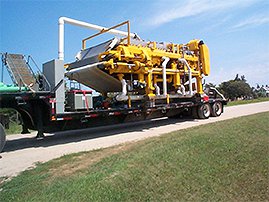 Fergus Power Pump, Inc. is a company with today's pulse for the environmental solutions for your project. Fergus Power Pump Inc. will provide a professional experience team to complete your dewatering project. Our team will provide the best possible solution and production for your project.
Today many of the municipalities and leading industries land apply there Biosolids. Due to rapid increase of population and development, it has become a challenge to find field sites to land apply. The municipalities and leading industries are now changing focus to managing there Biosolids by dewatering. Dewatering reduces solids wastes weight and volume for a greater environmental Bi-product. This Bi-product can be transferred to a landfill with minimal impact or environmental resource for efficient incineration with reduction of moisture.
Dewatering Methods
Belt Press
The belt press separates water from Biosolids by using a series of belts and rollers that process, transfer and compress the solids in various ways to separate them from the water. We sell and rent Belt Presses for all types of water clean-up applications throughout the country. In many situations, Belt Press Rental is the best solution for a temporary project, or if purchasing this type of capital equipment is not possible. We sell and rent Ashbrook Belt Presses, Andritz Belt Presses, Komline Belt Presses and others. We only provide belt presses from the top manufacturers that we know and trust to be dependable and reliable units.
Belt presses are an effective and efficient way to clean all types of process water, waste water, industrial and agricultural water, and more. Once the solids are separated out using the belts and rollers, they are typically augered into a container or truck for easy disposal. Fergus Power Pump specializes in Belt Presses and Dewatering. Contact us today to learn more about our belt press sales, belt press rentals, dewatering, water clean-up projects, and more.
Our Belt Press Rentals include:
Completely Portable Flat Bed Trailer
One Control Touch Panel
Complete Self Mixing Polymer System
Technical Support
Learn More about our Belt Presses
Centrifuge
The centrifuge separates the water from the Biosolids by high revolution to separate water from the solids. The sludge is pumped into the centrifuge where the screw and the bowl are operating at a high revolution creating pressure and separating the water. The water is discharged into a centrate pan and the dewatered Biosolids are augered into a container or truck for transfer to landfill or a field site for disposal.
Completely Portable Within an Enclosed Trailer
Insulated with Heating
One Control Touch Panel
Complete Self Mixing Polymer System
Technical Support

Screw Press
A screw press that separates liquids from solids by continuous gravitational drainage. Screw presses are often used for materials that are difficult to press, for example those that tend to pack together. The screw press squeezes the material against a screen or filter and the liquid is collected through the screen for collection and use.
The specific details of the design of a screw press depend on the material. The length and diameter ratio of the screw press also depends on the material.
Automated control
Wetted parts are Stainless Steel.
Screen casing is split to simplify screw removal and minimize footprint requirements.
Perforated screen allows for tight tolerances and improved performance over wedge-wire screens.
Low wash water requirements. Dewatering operations do not need to be suspended during cleaning.
Cleaning cycle is typically once per day for 3 – 5 minutes.
Plate & Frame Press
A plate and frame filter press is the most fundamental design, and many now refer it as a "membrane filter plate".
This type of filter press consists of many plates and frames assembled alternately with the supports of a pair of rails.
The presence of a centrifugal pump ensures the remaining suspended solids do not settle in the system, and its main function is to deliver the suspension into each of the separating chambers in the plate and frame filter.
The slurry flows through a port in each individual frame, and the suspended solids are accumulated in each hollow frame. As the suspended solids becomes thicker, the filter resistance increases as well. Suspended Solids accumulation occurs at the hollow plate frame, then being separated at the filter plates by pulling the plate and frame filter press apart. The cakes then fall off from those plates and are discharged to the final collection point.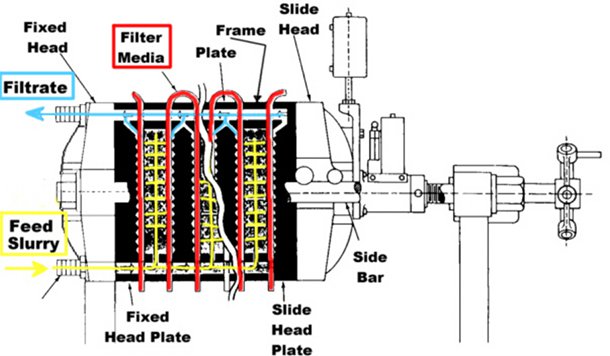 Gravity Belt Thickener
Gravity Belt Thickeners reduce sludge volume of biosolids, waste activated sludge and slurries produced during municipal or industrial wastewater treatment and produce a pumpable concentrate for dewatering, treatment, or transport.
Gravity Belt Thickeners is a highly effective tool for dewatering. It operates quietly at a minimal cost, consuming a low volume of wash water. Sludge is flocculated using polymers, introduced on the belt and the released water is drained through the gravity belt.

Drying Dewatered Cake
Fergus Power Pump, Inc. offers Mobile Biosolids Management Services to clients throughout Minnesota and Nationally in producing Class A pathogen reduction, vector attraction reduction.
Leasing Long Term or Short Term
Fergus Power Pump Inc. will provide the best possible solution and production in your dewatering project. We will deliver the mobile-centrifuge or Belt Press unit to the project site will return the mobile unit at completion. We will provide training with the equipment, maintenance, and troubleshooting procedures. Additional technical assistance will be available via telephone 24-hours per day.
Service Contract
Fergus Power Pump Inc. will provide a professional experienced team to complete your dewatering project. Our team will provide the best possible solution and production for your project.
Restoration & Services
We can service all press models
Your press is not old or unusual
Rebuild to factory specifications
We provide the solution that saves you time and money
Potential Dewatering Applications
Municipal Sewage Biosolids
Pulp and Paper Mill Biomass
Fly Ash
Fine Grained Dredged Material
Coal Tailings
Mining and Drilling Waste
Industrial By-Product Waste
Agriculture Waste
Food & Beverage