Road Stabilization & Dust Control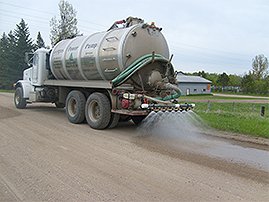 Fergus Power Pump, Inc. applies a high performance product that is environmentally safe for road maintenance and that provides a true savings to your road maintenance costs.
As dust control agent which greatly reduces the nuisances of dust. So simply, open your windows without having dust invade into your home.
What to expect when we apply road stabilization:
Save dollars by reducing grading, graveling along with minimize wash boarding.
Constantly improving road conditions after each application
Improves the Environment and healthier living along gravel
We apply to a variety of areas:
PRIVATE DRIVEWAYS
TOWNSHIP AND COUNTY ROADS
PARKING LOTS
STORAGE SHEDS & POLE BARNS
CITY STREETS
Contact us for quotes, applications or bulk rates.