Dewatering Bags
What is a Dewatering Bag?
Dewatering Bags are constructed of high strength woven geotextile and are custom fabricated with double stitching that resist pressures during pumping operations.
High flow rate allows liquid to dewater, while containing solids.
Average Sizing - Length: 100ft or 200ft; Circumference: 45ft or 60ft
Overview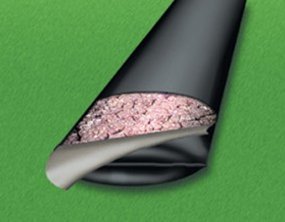 Potential Dewatering Applications
Municipal Sewage Sludge
Pulp and Paper Mill Sludge
Fly Ash
Fine Grained Dredged Material
Coal Tailings
Mining and Drilling Waste
Industrial By-Product Waste
Agricultural Waste
Placement of the Dewatering Bags
Dewater bag is laid across the berms after the surface has been prepared. After the ditch is constructed, a fiber mat is placed prior to laying the bag out.
Disposal of Solids
Bag and fiber mat is disposed at sanitary landfill after solids have been removed and the distributed area is resloped and seeded.