Digester & Tank Cleaning
Fergus Power Pump, Inc. has 30 years of accumulative experience in cleaning digesters and tanks. We provide cleaning services for digesters as well as all other tank structures.
Over time, digesters accumulate grit, trash and heavy solids that are not removed during normal wasting events.
This accumulation reduces the effective treatment capacity of the digester and negatively effects proper operation. Fergus Power Pump, Inc. can safely and efficiently remove and manage these solids.
Fergus Power Pump, Inc. can also remove heavy accumulations in oxidation ditches, aeration tanks, etc.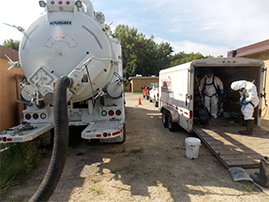 Thirty years of cleaning digesters has led us to develop several novel and reliable methods for sludge removal. The method(s) we utilize varies from project to project and is dependent on the tank shape, characteristics of the sludge and available disposal options.
All operations are conducted in compliance with local, state and federal regulations.
Types of Tanks Cleaned:
Anaerobic and Aerobic Digester Tanks
Sludge Storage Tanks
Aeration Tanks
Clarifiers
Oxidation Ditches
Fergus Power Pump, Inc. has the equipment necessary to handle the debris and grit that accumulates in tank bottoms.
Our field crews are, professional and experienced. The field crews are trained in proper confined space procedures and appropriate safety equipment and PPE is used during sludge removal.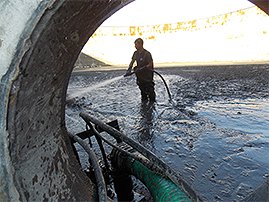 Disposal services that can be performed in conjunction with the cleaning:
Pumping and Transfer
Dewatering, aka Belt Filter Press, Dewatering Bags
Land Application (if appropriate)
Landfill Disposal
Drying Technologie
Benefits from Cleaning digester:
Increase detention time and storage of Biosolids in the digester
Increase Digestion
Extending the preservation of pumps, piping etc.
Supply water source near the digester, aka. Fire hydrant
Centrate from dewatering operations will be returned to the plant headworks for reintroduction into the wastewater treatment facility.